Safe Trick or Treating Tips to Keep Your Little Ghosts & Ghouls Safe & Sound This Halloween
Home » Blog » Dallas's Local Halloween Fun Guide, Halloween's Hottest Trends, Little Ghost & Ghouls Corner
October 24, 2017 By Cait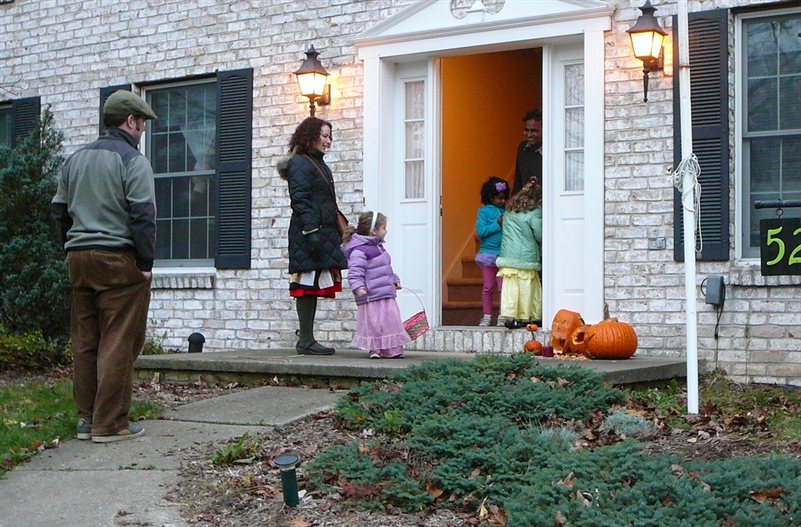 Trick or Treating is a Ton of Fun, and Following a Few Simple Safety Tips will Ensure a Great Evening for Everyone!
Photo by:
Photo by Dericafox, via Flickr. CCA 2.0
Halloween is right around the corner, and as the little ghosts and ghouls gear up for all of the excitement that comes with trick or treating, parents are doing their own trick or treating prep, to ensure that their little ones stay safe this Halloween Season. To make things a bit easier for parents this Halloween Season, we've put together a list of tips, tricks, and ideas to keep your whole family safe, healthy, and happy this Halloween, so that your trick or treaters can focus on what's important - getting even more candy!
Trick or Treating Safety Tips For Trick or Treaters
Always Trick or Treat in a Group - While you're out trick or treating, it's important to stay close with your friends, and travel in a group. There's safety in numbers, and plus, it's more fun to go out with all of your pals!


Be Sure to Bring a Flashlight with You - While most kids probably have cellphones nowdays, having a small, old-school flashlight handy is still recommended for trick or treaters, since phone batteries can die quickly, and you'll want to save your phone juice for emergency phone calls.


Trick or Treat in Well Lit Neighborhoods & Stay on Sidewalks When Possible - It's important to try to stick to sidewalks to avoid oncoming traffic, and try to stick to neighborhoods and streets that are well lit, and have street lights for when it gets darker out.


Keep Your Cellphone Charged & Handy in Case of Emergency - While there's no problem with snapping a few Halloween Selfies with your friends, you'll want to conserve your phone battery, just in case you need to make an emergency call if you get lost, separated from your friends, or need help.


Be Careful While Crossing Roadways, and Respect Oncoming Traffic - While most drivers are cautious when driving in residential neighborhoods on Halloween, it's important to always take care when crossing the street, and walking on roadways on Halloween. If possible, stick to sidewalks, and ALWAYS look both ways before crossing the street.


Do Not Approach Unfamiliar Pets or Animals Without Permission, Even If They're in Costume - Halloween can be scary for pets, even those who are decked out in their Halloween best. Before approaching ANY animals, be sure to ask an adult first, and see if their dog is friendly before reaching out to pet him or her. If you see an unaccompanied pet out in your neighborhood, call a trusted adult, or the police non-emergency line, and do no approach the animal.


Let Your Parents Know What Neighborhoods You'll Be Visiting, and Check In When You Can - Plan on trick or treating parent-free this Halloween? Awesome! Be sure to work out a Trick or Treat route with your parents, so they know where you'll be, and check in with mom and dad when you can, so they don't have to worry while you're out getting your treat on.
Trick or Treating Safety Tips For Parents
Establish a Curfew and/or Check In Times - Letting the kids go out alone this Halloween? Be sure to establish a curfew time with your child before Halloween night, and if they'll be carrying a cell phone, confirm check in times with them if they'll be regrouping at a friend's house after they're out trick or treating.


Keep a Details Description of Your Child's Costume - Having a detailed description of your child's costume before they head out trick or treating, or even a quick snapshot of them in their getup can be vital in finding your little one, should they get lost while out trick or treating with friends.


Check Out That Candy Haul Before the Kids Dive In - Before your kids enjoy their Halloween treats, be sure to check out their haul, and pluck out any treats that have opened wrappers, appear to be tampered with, or potentially contain ingredients your little one might be allergic to. You can make this fun by having all the kids participate, then holding a "candy swap" after you're done with your treat check.


Make Sure Your Child's Cellphone & Flashlight Are Charged - Having a cell phone and a flashlight handy on Halloween will make for a safe and fun trick or treat experience, and you can rest easy knowing your little ghosts and ghouls can get in touch with you if need be.


Make Sure Everyone Knows the Rules Before They Head Out - Making sure that everyone's on board with your Halloween Safety plan will ensure that your trick or treaters have a scary-good time this Halloween, and you can relax knowing that they're prepared in case of emergency, but are having fun this Halloween.
Have a Halloween Safety Tip You'd Like to Share? Let Us Know in the Comments Below!