Dallas Zoo Animals Enjoy Some Pumpkin Treats & It's Adorable
Home » Blog » DallasHauntedHouses.com News and Updates, Halloween Headlines
November 2, 2017 By Chelsea T.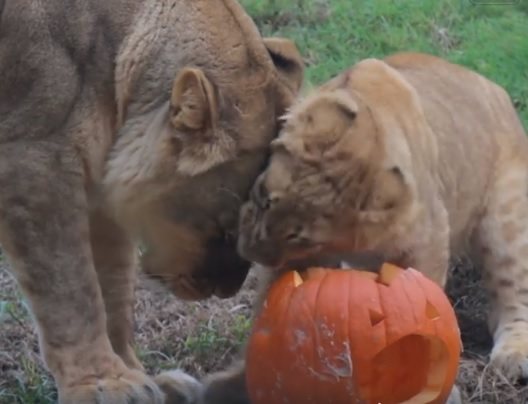 Photo by:
Dallas Zoo via Facebook
Humans weren't the only ones enjoying the Halloween holiday on Tuesday. The animals at the Dallas Zoo ate their way through jack-o-lanterns and it's quite a cute sight to see!
The zoo shared a video of the feast on their Facebook page as Ajabu the elephant and lion club Bahati rolled the pumpkins around until they were destroyed. The hippos enjoyed the treat as well, showing off just how strong they are as they crushed the pumpkins in their jaws.
Some of the zoo animals struggled a bit though, including the huge Galapagos tortoises and the meerkats who can be seen inside one of the pumpkins, chomping at its inside. Check out the adorable video below!